The Challenge
Medtronic is a global healthcare company committed to improving lives through innovative technology solutions. Medtronic's StealthStation®, surgical navigation system, was in need of an update. Historically, Medtronic is a market leader in surgical navigation. Their software, however, was visually and technologically antiquated—it hadn't been updated in 10 years.  New brands were beginning to threaten their market share. Medtronic was losing their competitive advantage and came to Slice of Lime for a product overhaul.
Phase I: Discovery
The most critical part of any design project is Discovery. This phase allows the project team to immerse themselves in the experience of the user and the problems that need to be solved. The understanding established during discovery creates a solid foundation on which to begin to build.

Getting Acquainted
The very first step in Discovery is gaining an understanding of the product and problem from the client team. They are the experts in their field and have a lot of important information that the design team needs to process.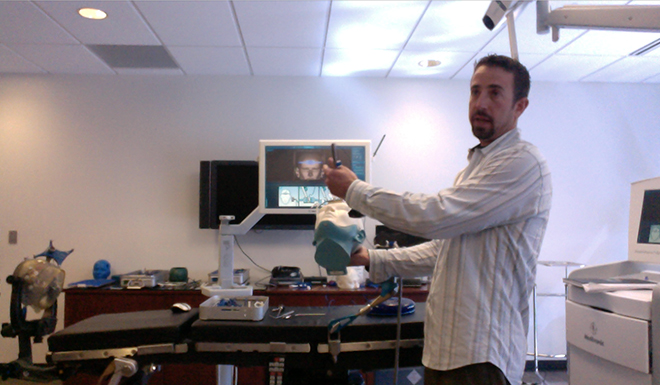 The Medtronic team gave our team an extensive tour of the current product offering. We gained an understanding of where the software design and functionality stood as well as how it integrated into the physical products and process to successfully navigate surgery.
We also use the Discovery phase to gain a good understanding of the organization as a whole, the stakeholders leading the effort, and the teams we will be directly working with. Our consultancy work isn't limited to product design, we also help cultivate communication between teams and help break down silos impeding good work.

Mapping
To fully understand the current user experience, we map out the journey of the user in the current system.

Our team facilitated a discussion and workshop with users specialized in the Medtronic StealthStation product. We started them off with some basic sticky notes and let them fill in the rest.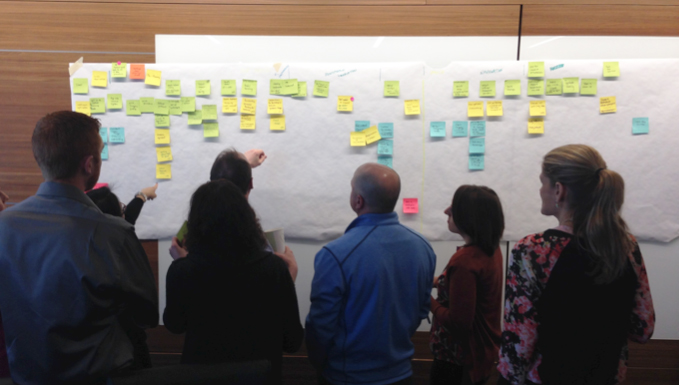 Incorporating actual user feedback into initial discovery is invaluable.
We were also able to get our hands on customer support data, a goldmine of information, to help inform our journey map.
All of this allows us to capture the different flows within the system, what is working, and where we need to focus our efforts. Within this journey map we recorded over 150 distinct pain points, labeled them within each flow, and annotated our findings around each.
Phase II: Framing
Now that we have our bearings we start ideating potential solutions. This phase gets a little messy and is a lot of fun. In the beginning, ideas are raw and plentiful formed on whiteboards, sketchpads and sticky notes.
Going Wide
Initially, no idea is too crazy or too big at the beginning—it's more important to explore than to define.
As ideas come together, we begin mapping out the universe of this product, poking holes in everything. Without restraints, we can focus on the ideal path for the user's journey.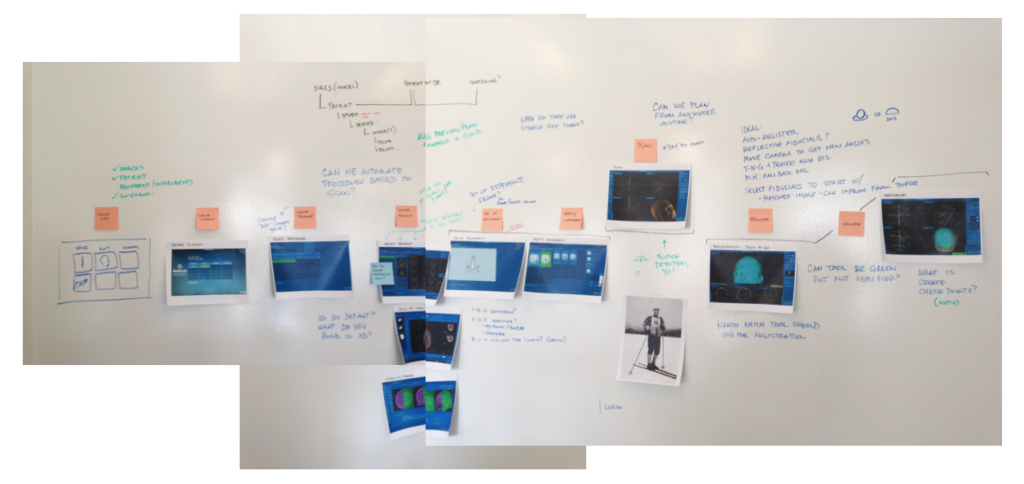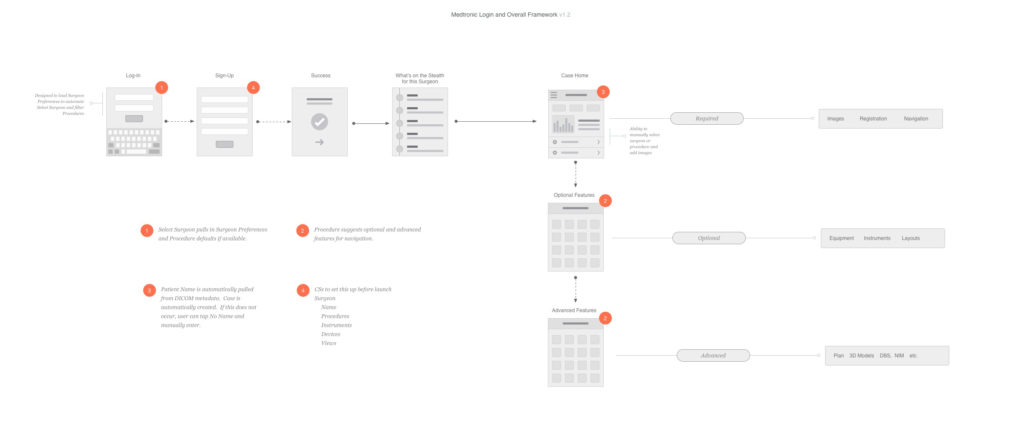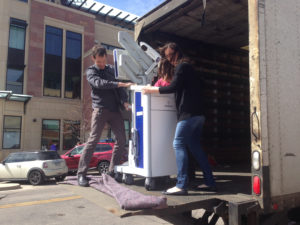 It is also imperative to have a full understanding of where and how this product will be used. In this case, the client wheeled in a $500,000 machine into our design studio so we could understand how the hardware piece of this product worked. We got a sense for how loud the machine was and how well lit the screen would be in a potentially dimly lit room. Operating Rooms can be dark and crowded with both people and machinery. Our product had to be easily accessible, both visually and physically, without intruding into the space.
Narrowing Down
Now that we've explored and experimented, it's time to start validating some of those ideas. The best way to do this is by inviting subject-matter-experts from across team within Medtronic to help us vet some of our concepts.
Technical feasibility is extremely important so we involve a representative from the engineering team whenever possible.
We ended up landing on an approach that would specialize content dependent on the user. The surgeon would see what they needed on their display and the staff would see what was required from a support role.
Phase III: Building
This where things really start moving. What we learn in the first two phases are transformed into a system. The journey is no longer illustrated as simple boxes and arrows, but are transformed into interactive screens. The real product emerges and begins to communicate interactions and visual design.
Wireframes take shape quickly detailing a comprehensive and testable user flow.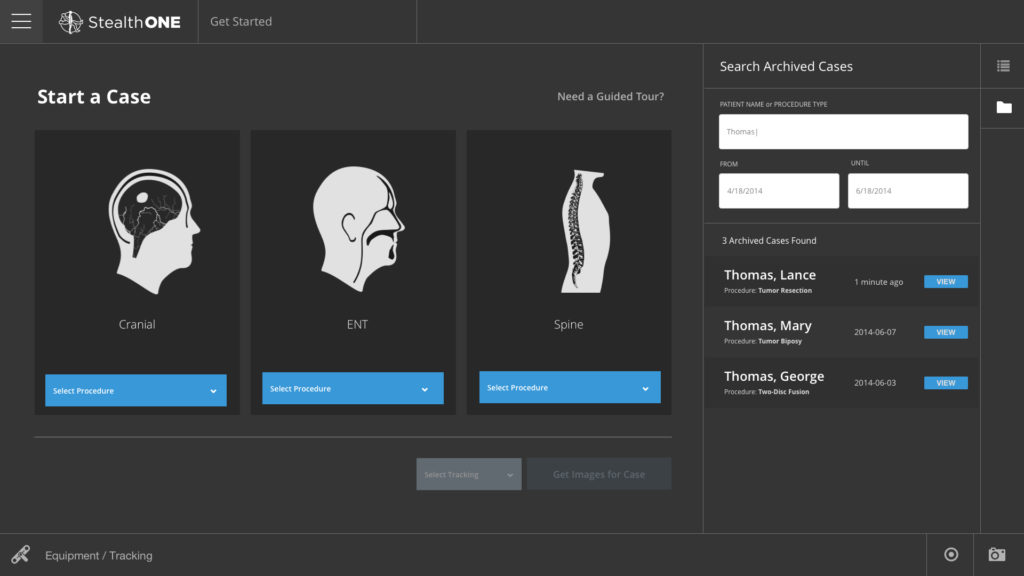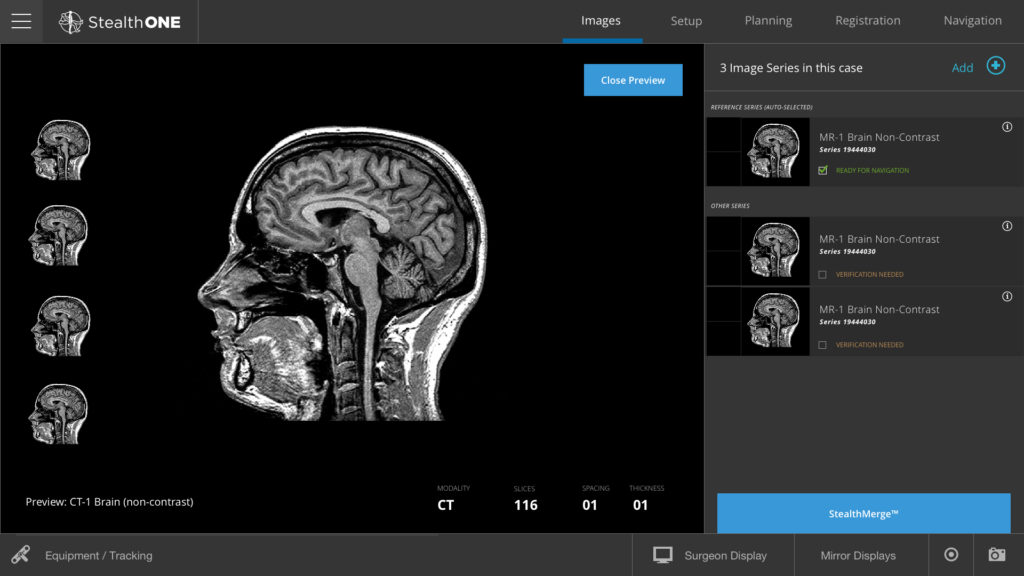 Quick iterations including animations allow testing of timing, space allocation, transitions and overall success of task-switching methods.
As the user flows and interactions take shape, documenting view types and setting hierarchical patterns are required to build reusable elements that will accommodate numerous content types. Consistency in interaction patterns and visual elements are key in building a coherent user experience.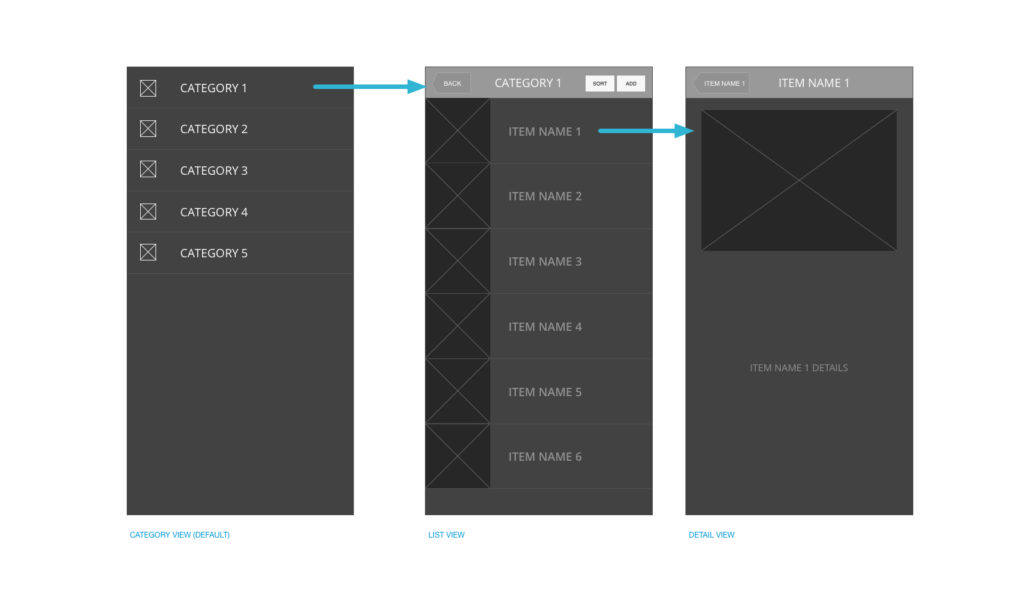 Phase IV: Validation
There is no such thing as a successful product or experience without validation. Continuous involvement from users is crucial in all steps of building a process, but usability testing formalizes their feedback as we test our assumptions in the previous phases. Repeated validation ensures that we are mitigating risks at every turn.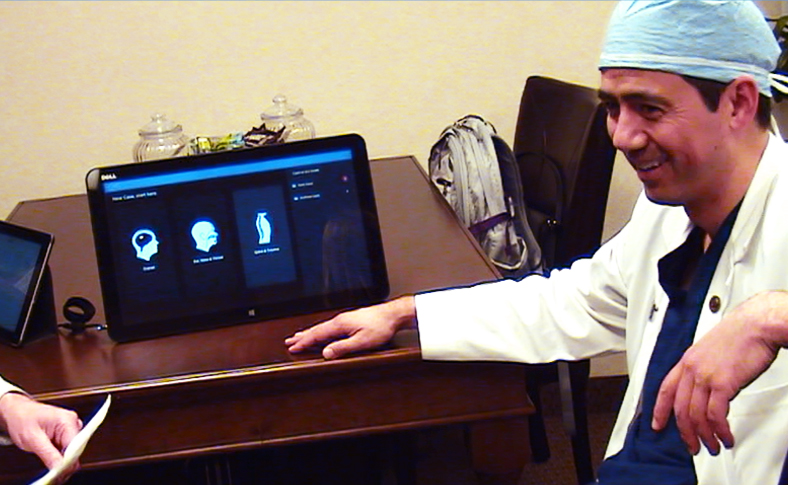 Testing was conducted on-site and remotely. After each interview and observation we collected our data and began identifying trends and behavioral patterns to help prioritize our next iteration.

Seeing real users, surgeons, using our product and hearing their feedback reinforced the importance of this work—this product would be saving lives.
Phase V: Iteration
This is the core of any good UX process. What was built, prototyped, and tested is adjusted to produce a better outcome with the knowledge gained from validation. This brings the process full circle as we continue to build, measure, and learn.
Solution
As the engagement with Medtronic came to an end, tested and validated wireframes moved toward full visual design. Patterns developed early were organized into reusable components in a living style guide used to polish and integrate the final experience.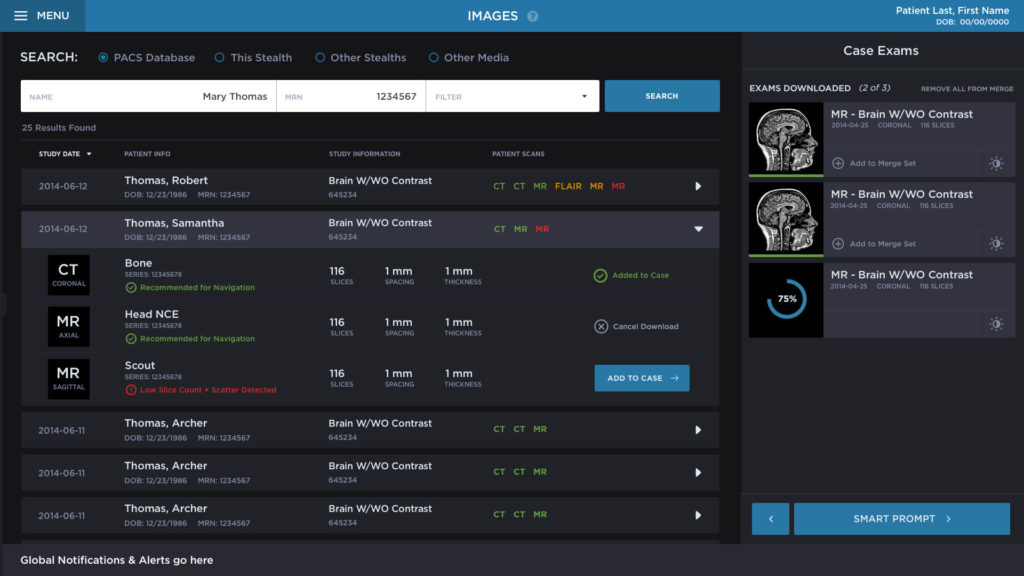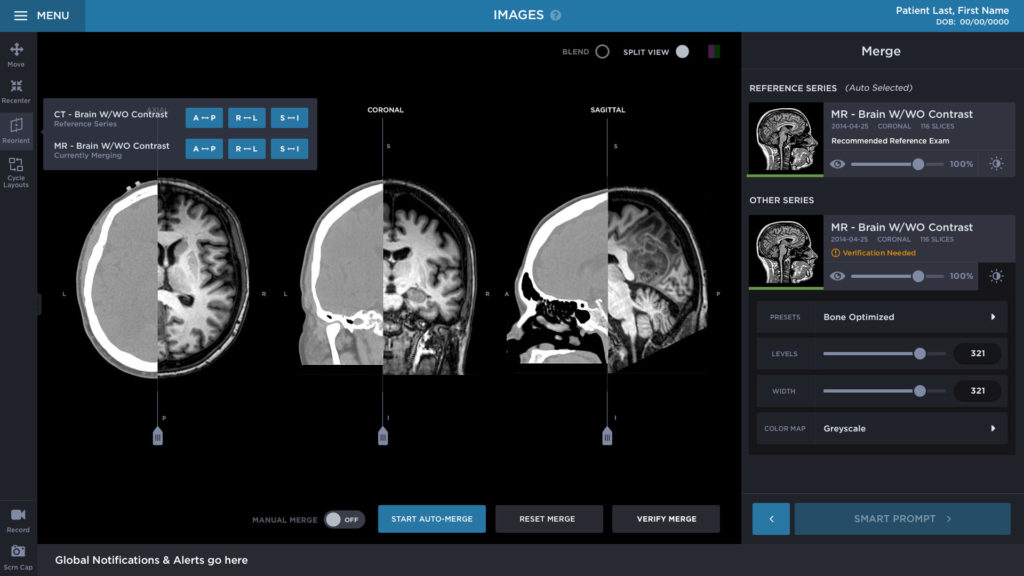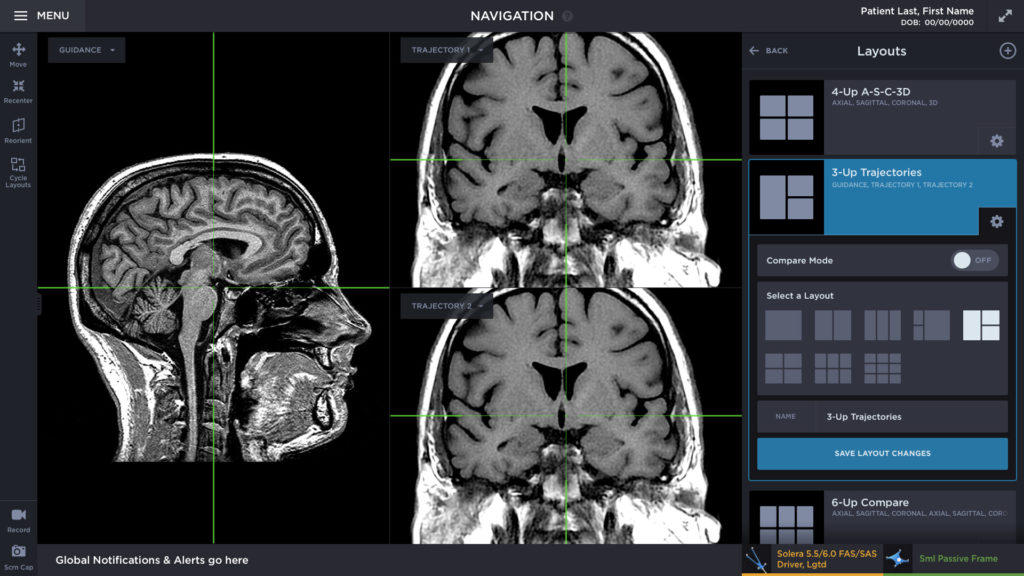 Lessons Learned
This project was a huge undertaking for everyone involved. I learned a lot about process and the importance of a dedicated team, both internally and from the client—especially when we basically had to learn brain surgery to be successful.
The StealthStation® S8 launched Spring 2017.